–observations and opinions of Melanie Garell
When we first decided to go down to Jacksonville, Florida for Welcome to Rockville Music Festival it was a win win situation. My best friend lives in Jacksonville and our top three favorite bands would be playing there for one dandy price. Ozzy with Zakk Wylde, Avatar, and Them Evils. I would pay multiple times to see any and all of these guys.
Well, it was worth every cent, mile, and ray of sunshine (and a few bumps from the pit). I highly recommend getting your tickets early…not only does this event sell out, it has a tiered ticket price system. So the earlier that you buy the less you pay. Also, if in any way you can pay for the VIP tickets…do it!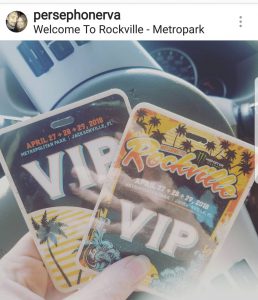 I originally went with VIP for the fancy bathroom, since we would be camping on site the last thing I wanted to experience were nasty bathrooms both day and night. WORTH IT! We enjoyed the other benefits immensely! Like no waiting to get in, a comfy viewing area with viewing screens, special low crowd locker area…and special food choices like lobster…of course just to name a few.
How was the music?
Top notch line up for sure…check out the full line up here.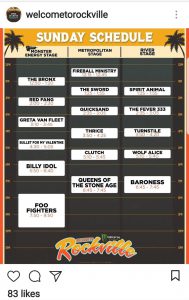 It did seem that the event coordinators did their best to stagger the bands throughout the three stages. We didn't have too many overlapping preferences…and when we did we just wandered between the stages. They really were just far enough away from each other to manage the sound. The downside would be if you are heat intolerant…but maybe don't go to a music festival in Florida.
Them Evils was our first stop. We first saw them back in Richmond, VA at The National opening for The Pretty Reckless. I have to admit, I usually am not impressed with a supporting band…but these guys owned the stage while ripping through covers and originals. Super Sexy and Pure Rock n' Roll! They have been playing there way around the country collecting fans of that old blues rock that seemed to be left behind. I also caught them doing a stripped down set…which I loved to hear. So often I find gigs for a band that I support but the space doesn't allow for their full sound. It is nice to be reminded that the grittiest tunes can hold a smaller space.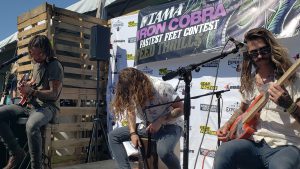 Stay tuned…full article about Them Evils in the near future as they are making a stop in Richmond, VA and playing at my favorite watering hole. They will be at The Camel on 5/8/18 with Bismuth RVA and Elements and Artifacts.
Squeezing Them In…
We ran around for awhile taking in sounds of Trivium, Bad Wolves, Underoath, Toothgrinder, The Used, Halestorm, Five Finger Death Punch, Godsmack, Atreyu and finally Ozzy with Zakk Wylde. Yes, we worked this festival hard. We actually met people who only saw one or two bands a day…which puzzled me this waste of opportunity.
It was really an experience to hear this bands live. While many I had already prepared myself for with the help of the Welcome to Rockville Spotify playlist some were completely new to me. In a nut shell…I would say that Halestorm, Toothgrinder and Trivium were all better live than recorded. Especially Halestorm, honestly she was always too clean and tidy for me until I saw her killer live performance. Lots of rasp and attitude…either she is really coming in to her own…or those recordings were meant to be smooth like glass.
Who was definitely better in the studio? Five Finger Death Punch…I was disappointed by their live sound…but I am open to hearing them at another venue for a full opinion.
Newer bands to look out for Bad Wolves and Toothgrinder,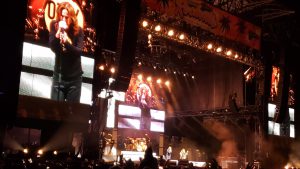 Rollin' into Day 2
Saturday was a little trickier to catch all the bands…including squeezing in some meet and greets. We were able to catch the tale end of Tyler Bryant & the Shakedown while holding our front row VIP spot to see Avatar. So we missed Joyous Wolf live but were able to watch them on the screens. Really sucked to miss them since I have been watching them grow on social media and am excited to see where their music career goes.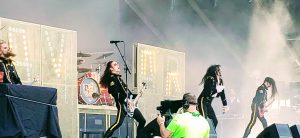 So why did we wait an hour in the burning sun to see Avatar? In a nut shell…BEST INTERACTIVE METAL PERFORMANCE! I am sure that I don't have the time or space to get into that right now….but full article about them coming soon after I catch them in Lynchburg at Phase 2 on 5/6/2018.
Meanwhile we spent the afternoon skittering about between Red Sun Rising, Sevendust, Black Veil Brides, Them Evils Stripped Down, Avatar meet and greet, Stone Temple Pilots, Butcher Babies, Breaking Benjamin, Stone Sour, Andrew W.K., and wrapping up the night with Avenged Sevenfold.
Some nut shell comments; Butcher Babies and Black Veil Brides were my least favorite with Andrew W.K. a close 3rd. It is all about personal taste…
Saturday's Newer Bands to look out for: Red Sun Rising has a more fun upbeat sound which shows in their nostalgic album art.
Still Rockin' Final Day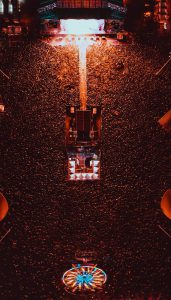 Honestly, Sunday's line up didn't really do it for me…but what else was I going to do. No really, there really were a couple of bands that I didn't want to miss…The Sword and Clutch. Neither of these bands disappointed me…although I prefer the recorded versions of The Sword over their live and vice versa for Clutch.
I also caught Red Fang, Greta Van Fleet, Thrice, Bullet For My Valentine, Billy Idol, Queens of the Stone Age, and of course Foo Fighters. I would say the experience of seeing these bands live overshadowed the music itself, with the exception of Greta Van Fleet.
Greta Van Fleet certainly has created a buzz in the world of music critics with what sounds like Led Zeppelin reborn.
Of course looking back if the crowds hadn't increased to what I hear was 50,000-90,000 people I probably would have made it to more stages.
Life at Welcome to Rockville
What does a venue do with 90,000 people? Impressive number…kudos again to the event coordinators. I know the task of creating smaller events and can't even imagine the work that goes into something like this. Yet, here are a few things you may want to know that won't be covered in the Welcome to Rockville FAQs page.
CAMPING: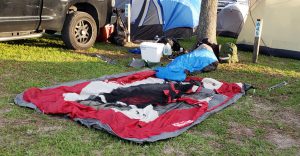 When they say camping, they mean a tailgate field behind the football stadium. While my expectations were not high some of you may find this an uncomfortable sleeping arrangement. No power, no water…charging stations over at the bar. They do not let you take your car out once you have parked, so be prepared to Uber out if you forgot supplies. There are few trees and lots of fire ants. I suggest you bring a canopy, protective footwear, earplugs and cots.
The facilities were your basic "beach" environment bathrooms with plenty of stalls and a friendly attendant, so bring tip money. In addition, they brought in the fancy portable shower trailers that KOA has adopted. You may want to use them in the down time…they get quite humid inside and there could be a line. Clean and Refreshing
The bar is open early and closes late and charges $5 a bag for ice. They have you cornered for sure, the "campground" is otherwise surrounded by water, stadium, and industrial buildings. The only nearby food we could find was about three blocks away. There are two small diners and a tiny store that sells very few items…but is good for beer and cigarettes.
If none of this appeals to you…book your hotel room early…those sold out rather quickly between all the venue employees, bands and eager fans.
FOOD:
The Rockville website does not lie! The best food trucks were brought in to keep everyone happy. From fresh seafood to treats. My only personal complaint was the lack of juice trucks and raw vegetables. You may not bring food in without a doctor's note. I had a doctor's note and didn't touch my special diet food…most of the trucks are labeled clearly or will accommodate special diets.
Are you a drinker? Are you rich? Then have at the bars…otherwise be prepared to party after you leave. For example, I had one mixed drink that totaled $18. It was my only mixed drink. They also charge for water…I don't know what is up with that in the Florida heat.
MISC:
MERCH: If you are a VIP, there are special merch stations inside the VIP areas. Unfortunately, they only sell Welcome to Rockville items…so if that is all you want skip the chaos of the ONLY merch center. Yes, ONE merch center with hundreds of people trying to figure out what they want from a wall of black band shirts. So if you want merch go early…they will sell out and bands take their stuff with them when they leave. Honestly, I would just go directly to a bands online merch store or email and support them there. The festival takes a nice cut of these shirts….and yes mostly only shirts.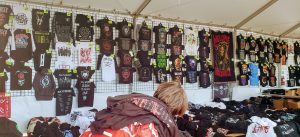 MEET & GREETS: Meet and greet times are posted on social media one day before. You need to know that several are going on simultaneously in different locations, you may have to pick one. You can only meet if you have a purchased item to sign…that line is really long and by the time you have bought a CD the meet & greet could easily be over with. To help with this process I would suggest you purchase the $25 "fast pass" that bumps you ahead of everyone else. This pass is not only good for the entire Rockville festival but can be used at other festivals. So go first thing and get all the items you want signed and carry them around all day.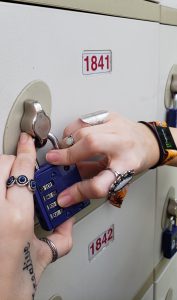 Don't want to carry a bunch of CDs and shirts around all day? They have you covered for $60 you can rent a locker for the entire weekend. Sound like a waste of money? I thought so for a minute…then was overjoyed to be empty handed most of the time and the added bonus of in locker chargers.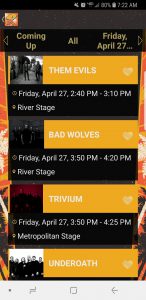 I recommend the handy app as well. It even reminds you when a band is about to start. The only thing I didn't like about it was that the map was stagnant. Hope they change that up for next year.
I am sure I have left out some important tidbits…or you may have additional questions or concerns. Send me a comment and I am happy to see what I can do!