–observations and opinions of Melanie Garell
The Groove Music Hall Spotlight Show 4/21/2018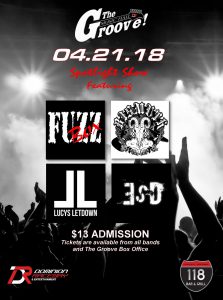 The months and days leading up to this spotlight show at The Groove Music Hall opened my eyes to the possibility that mini tours are worth all the work.  It isn't easy booking out of town and it isn't easy selling tickets from out of town.  And nothing is harder than pulling your fan base out on to the road when you are a new band.
There is nothing like talking to and watching other bands grow online and finally getting to meet them.  And occasionally, you make contact with a band that changes your life…not simply for what you can "do" for each other…but the bond.  When Bismuth's vocalist, Emma Garell, met Lucy's Letdown vocalist, Michael Huntley, and their guitarist, Scotty Puckett…it was like they had known each other forever.  Bonds do happen quickly in the musician environment…but this one was extra special. I look forward to seeing where these two bands go together.  By the end of the weekend they already had a gig set back in Richmond at The Camel for 5/14/2018 .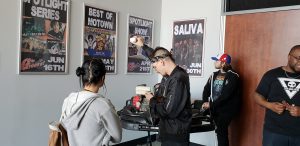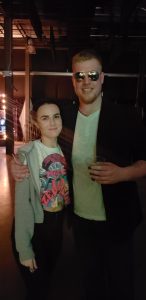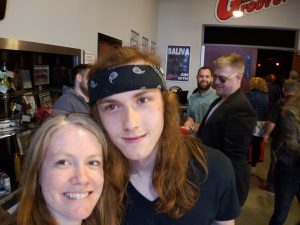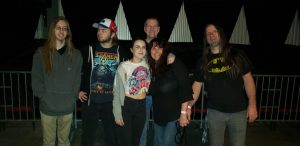 And Bismuth invited special guests to come check out the show.  Valerie and Patrick from Damson Blaze  (from the D.C. area) were excited to see a young female fronted band.  Look for these two rocker chicks on a stage together in the near future.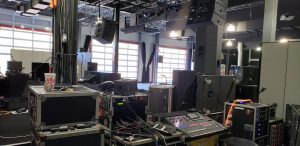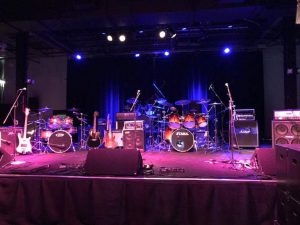 It amazes me every time how a pile of equipment becomes a musician's playground.  I have tried the roadie side and the sound side…neither are for me.  I quickly become overwhelmed and wander off or stop listening to those that know more than me.  I am clearly made for the networking/marketing side of band life.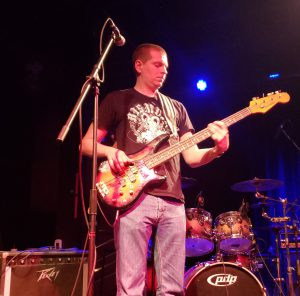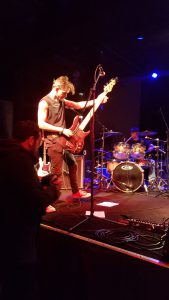 And those that know me, know that a concert wouldn't be complete without my #touchabassist #loveabassist .  While it all started as a joke, it is now my thing to hunt down the bassist and give them a hug and hopefully take their pic and toss it up on my instagram!
And last but not least….Bismuth's Emma Garell stealing the show with her surprise floor moves.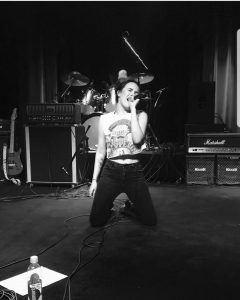 In case you wanted a band and venue review…I've got your back!
Working with The Groove Music Hall was easy.  They told us what to expect from day one and promoted the event like it was their only show of the year.  The venue is very spacious (600 standing), plenty of bars and space for merch. A full cafeteria style restaurant upstairs and plenty of clean bathrooms.
Only negative was the location is really hard to find since it is new.  GPS may tell you to pull over on 95 and walk the rest of the way and the venue is hard to find in the dark.  So for your extra info:  Exit 118 to Thornburg and go East, once you have the Shell station on your right prepare to turn and drive towards the race track…or the empty darkness.
I enjoyed the venue with them so much that I have sent another few musicians up for their next Spotlight Show on June 16th.  Obviously, I will be their supporting some of these fellas and will let you know how that goes.
Opening the show was Fuzz Box.  A talented rocker group of guys that even had a singing drummer here and there.  Mostly covers of your basic classic and hard rock…so easy to sing along with them.  These guys are seasoned and I suspect have more rock'n to do…so if you are in Northern Virginia go check them out. I hear they have played nationally with some pretty big names…so you never know where they may pop up!
Bismuth is from Richmond, Virginia with their female fronted hot singer leading her band of School of Rock graduates (except for their bass player) through the classics or blues metal into their originals.  Easily stealing the show with their sexy power vocals, clean guitar, enthusiastic drumming, and outgoing bass.  Hitting RVA hard with shows weekly…well at least until they take a quick summer break to tighten up their originals.  Go see them…never in moderation…and usually surprising.
Four guys that have been playing together and separately for years have finally settled in for a ride together.  The vocalist is intense with his blues rock style of laying down the lyrics of originals and covers.  Guitarist clearly has a metal background but those skills just enhance the Lucy sound.  Their bass player is like no other, really getting into playing and it was fun to watch him…like he wanted you to watch his fingers glide over the strings.  Rob on drums is versatile and appears to be easy going…these Lucy guys could go up our down in their genre and still hold on to their distinct sound. They are all fun to watch and easy on the eye.  Located in Northern Virginia but taking mini tours in the near future…keep an ear out for them…they won't be local for long.
Three fellas and #chickbassist rockin' it out with some very familiar 90s covers and some originals. They had the room dancing for sure.  They are located between Richmond and Fredericksburg so they could easily be seen anywhere in the area. According to social media they play The Groove Music Hall often…and cover the sound their at times.  So keep an eye on them there as well.
These guys drop originals regularly…so go check out their sound.