Observations and Opinions of Melanie Garell
Avatar has ruined metal music for the common metal band!
I KNOW! Those are harsh words but I am not alone in this opinion. Where most bands call them "fans", Avatar calls them citizens…Avatar Citizens. (please scroll down for Avatar Citizen photo dump) Yes, I am an Avatar Citizen with three shows under my belt in the last six months. Each one has left me wanting more. Avatar has ruined other metal shows for me. This is a high, an addiction and like any good high (adrenaline or otherwise) I'm left wanting more. I keep looking for another performance that can fill me with Avatar joy. I simply may be destined to spend the rest of my days following Avatar around the world. (Come on Powerball!!)

The first time I saw them was in the Fall of 2017 at The National (Richmond, VA) and I was speechless. I have witnessed thousands of musicians perform and I have grown quite numb to the usual head banging, jumping around and occasional pyrotechnics. I have been drawn into a rock performance like this and yet, this surpasses the shows of those ground breaking metal gods (Kiss, Manson, NIN…).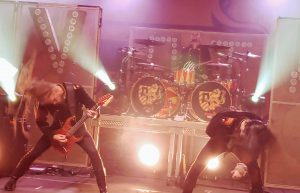 I CAN find the words to describe them: Avatar brings it in such a fully immersive way both on the stage and into the audience that you can't help but become a citizen. What I CANNOT do is find the words for these feelings that keep me coming back for more. The closest word I have come to is "addiction". I am not an addictive type…well, at least I didn't think I was until I saw Avatar.
Go ahead listen to their music, watch their videos…but none of it will matter…only a live performance can give you this high.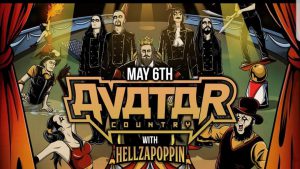 This past Spring I was fortunate enough to be able to bring my ten year old daughter to the last show on their U.S. Tour. She was already a strong "Young Citizen" of Avatar Country and her enthusiasm was running pretty high long before she saw them live. The event itself filled her with opportunities only a small child can have at a metal show.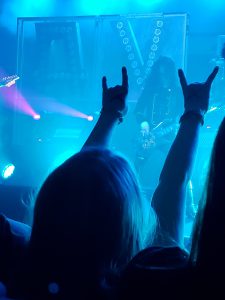 Our fellow Avatar citizens (strangers before this moment) welcomed her to the front so she could see and they quickly built a wall of protection around her when the moshing commenced. She never knew the mosh was in full moshieness while entranced by
Johannes Eckerström's
penetrating gaze. Johannes has perfected the use of make up combined with facial contortions to create various versions of himself. His facial expressions run a gamut of emotions including innocence, deception, humility, sadness, anger and even love.

Johannes' gift of many faces and mannerisms guide the rest of the Avatar band and the audience through what I would say is more of a performance art than simply a metal concert. This gift lets us know what to say, how to respond, and even what to feel. And the audience gives itself freely to being led through this fantasy world they have constructed.
Johannes did not ruin metal for this young citizen all by himself. He had plenty of help from the king of Avatar Country, Jonas "Kungen" Jarlsby. Jonas also noticed her energy and devotion to being their number one fan that night. Even though I was a little farther back I could make out the conversation between Johannes and Jonas after Jonas tossed one of his picks to her. What great sadness as that pick fell into the media pit, but those sweet fellas were quick to have it picked up and placed in her little hand. She held on to that pick for dear life until we got home. She spent that two hour drive telling us how life can not get better from here, that she is ruined for all the fun that could be had at any other concert. I know, it sounds like the rants of a tween…but this girl knows her music. She is behind the scenes with me at most events and is surrounded by musicians most of her waking hours. Not to mention, I know how she feels. Many know how she feels..it is a 'WTF just happened' reaction felt all the way to the soul. In the best possible way.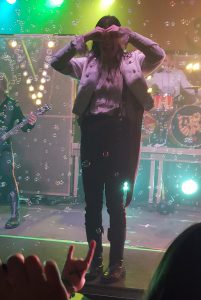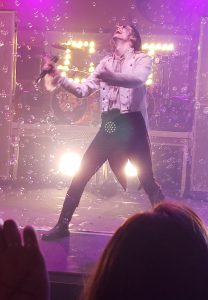 If you've seen them live then you know what I'm talking about fellow citizen. If you haven't, well, you must. The good news is they're back in North America in the fall with half their tour dates on the east coast and as close to RVA as Norfolk, Va (The Norva) in early October. (
https://avatarmetal.com/tour/
) I imagine I'll be attending at least three of those shows so I hope to see you at one of them.
Here is that photo dump I promised you.
Some very committed Avatar Citizens have been very generous with their contribution of photos. Getting photos that capture the experience is a challenge…I fail at it. I want to be fully immersed in the Avatar experience and the camera separates me from that. I have heard Johannes mention from the stage his dislike of seeing all the back's of our cellphones. Avatar shows are an experience between musicians and audience…the camera does block that relationship. I'd like to give a huge shout out to all the citizens of Avatar for their eagerness to share their photos.